Ever since we've gotten the second trailer to Child's Play, Orion's remake of the hit slasher film of the same name from 1988, fans have still been eager to see more Chucky. While the last trailer did give us a glimpse of the killer doll and even a fragment of Mark Hamill doing his best Brad Dourif impression, it definitely still kept the doll in the shadows.
Now thanks to Fandango's Summer Movie Preview, we have an all-new look at Chucky. Unfortunately the doll is still only given an indirect view, thus we're still not sure how this Chucky will turn out on camera. But it does give a better idea than we had before – plus we get to see Andy actually play with this variation of Chucky, which is still a cool visual.
Check it out below!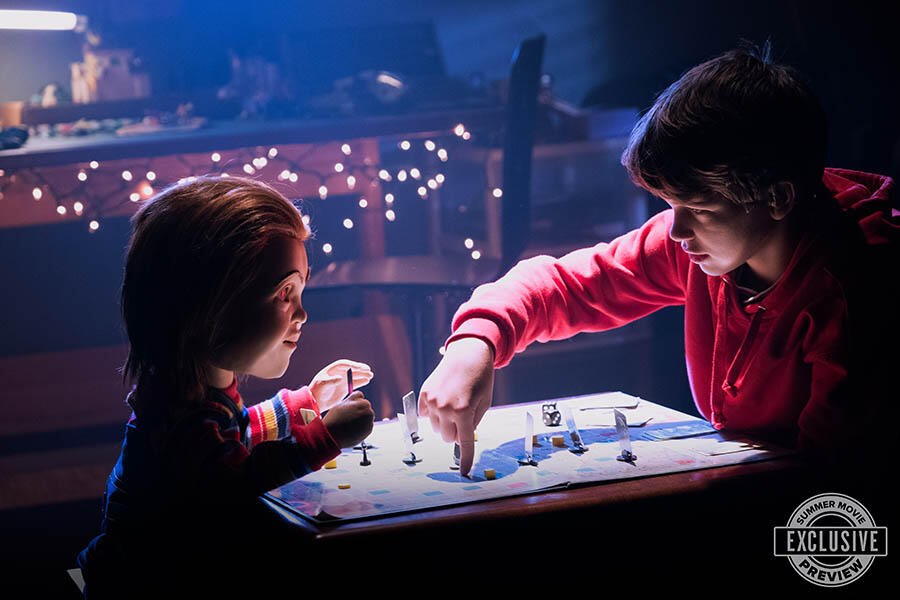 The remake is definitely shaping up to be an interesting variation of ideas originated by Don Mancini and Tom Holland in the original movie. While this Chucky will be the result of an artificial intelligence gone wrong, and no longer the soul of serial killer Charles Lee Ray, fans are still excited by the possibilities of a haywire smart toy. And the film doesn't seem to be watering any of it done – its own producer has called it "intense, gory, and R-rated."
Hopefully they do the originals justice – and, if all else fails, we should still be getting a television series from the original Child's Play cast and creators.
In the latest adaptation of Child's Play…
A mother (Plaza) gives her son (Bateman) a toy doll for his birthday, unaware of its more sinister nature.
Child's Play and its killer doll Chucky will return to theaters on June 21, 2019.
What do you think of the new image of Chucky? Do you like his new look? Let us know in the comments section down below!