Captain Marvel Vs. Thor Just Happened – And One Of Them Is Dead
People have hated on Captain Marvel for some time now. This is mostly due to Brie Larson's portrayal of the character (or some fans being mad at the comments she made before the film came out). But despite the haters, her movie made over a billion dollars and has many fans. And Marvel is planning on a sequel. Though, there may be another reason to hate her. A reason that has nothing to do with Larson or the MCU. In the comics, Carol Danvers has turned evil. She has donned a new, black costume. And she is on a mission to kill the Avengers. In the latest issue, she just killed another member of her former alma mater.
Spoilers for Captain Marvel #12 of the 2019 volume below!
In her turn to the dark side, Carol Danvers as Captain Marvel has a new mission. It is to kill every last member of her former team, the Avengers. In the twelfth issue of this new volume, she has succeeded in killing another old teammate. Screen Rant has reported that the teammate is none other than Thor.
When the God of Thunder discovers who is under the mask of this latest villain, he holds no bar. He must still have some animosity from Civil War II. The two have at it in a fistfight to the death. Danvers knows that she cannot defeat Thor without his hammer. So she flings Mjolnir out in space. Everyone knows that Odinson can summon his hammer to his hand wherever it lays. He was able to do this when he returned to the events of Thor: The Dark World in Avengers: Endgame. But for some reason, Mjolnir did not return to him after Danvers threw it out in space. Where did it go exactly? And so, without his hammer, Captain Marvel was able to kill Thor. But not only did she kill him, she chopped off his head. Just like how Chris Hemsworth's character did to Thanos in Endgame.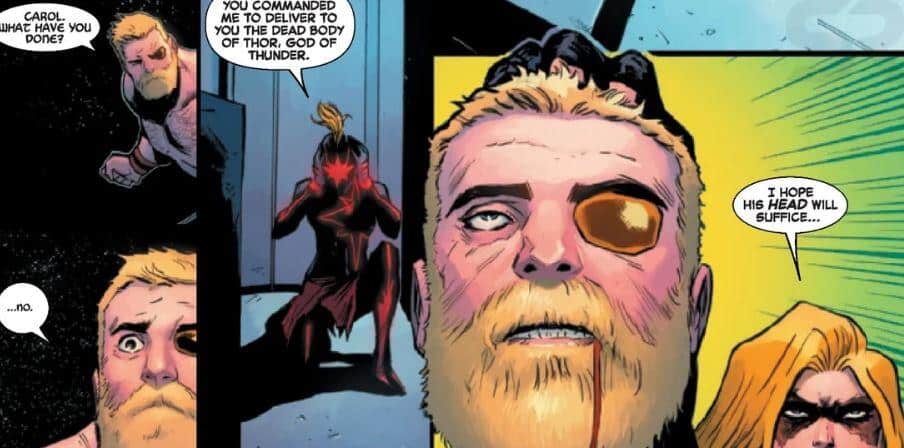 This arc for the comic book continues to show Danvers in her new role as a villain. But it has yet to show why or how she turned. Though, at the end of the issue, she swears allegiance to a looming supervillain pulling her strings.
Thor fans don't have to worry too much, though. He is only dead in this story. There are still other Thor stories in the current Marvel Comics. Jason Aaron is just finishing up his tenure with King Thor. Then, Donny Cates will take over with his reboot.
Check out the synopsis to Captain Marvel #12:
CAPTAIN MARVEL #12 (2019)
Writer: Kelly Thompson
Art by: Lee Garbett
Cover by: Mark Brooks
CAPTAIN MARVEL VERSUS THE AVENGERS! THE LAST AVENGER! Captain Marvel has fought off alien hordes. Rescued X-Men. Punched Thanos in the face. Literally saved the world. She now faces her greatest challenge: kill the Avengers. Has one of the world's most powerful heroes gone dark? But why? And what does this mean for Carol… for the world? Life on Earth will never be the same. Kelly Thompson teams up with Eisner-nominated artist Lee Garbett for a brand-new arc — and a bold new direction!
You can pick up a physical copy of Captain Marvel #12, as well as any back issues, at your local comic book shop. Or you can download the digital version on Comixology or Marvel.com. And for more news on Marvel, keep reading Screen Geek.