Very few mainstream horror movies in today's cinema world tend to go balls-to-the-wall crazy. However, when they do, the director and writer don't hold back on the WTF moments and might simultaneously create a new horror franchise. 2021's Malignant caught everyone by surprise. The James Wan-directed and Akela Cooper-written movie had a successful run by word of mouth and gave Cooper another shot to share her twisted mind with audiences. Fortunately for all of us, the writer who provided plenty of holy shit moments with Malignant is back with her newest film, M3GAN.
M3GAN, directed by Gerard Johnstone and written by Cooper, tells the story of a girl, her aunt, and the playful doll that becomes a cross between Skynet and Chucky from Child's Play. Starring Allison Williams (Gemma), Violet McGraw (Cady), Amie Donald (M3GAN), Ronny Chieng (David), and the voice of reason in this movie Jen Van Epps (Tess). Gemma has just become the guardian of Cady after the young child's parents were killed in a car accident. To help care for Cady, Gemma creates M3GAN so that the little girl can always have this generation's version of My Buddy doll.
From the start of M3GAN, the movie knows what it is. A campy horror that plans not to be taken too seriously and is eager to show the madness of Cooper's writing. Cooper's script showcases an underlying message of a successful young woman thrown into the world of guardianship. This messaging leads to some heartfelt moments in M3GAN that were nice breaks between the carnage the killer doll creates.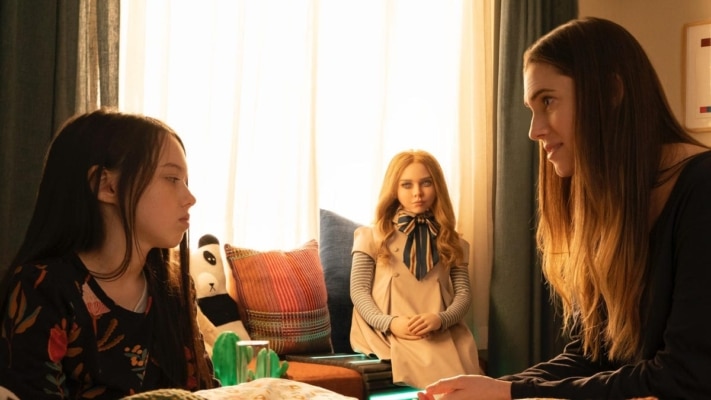 What also coincides with this underlying message is that we have become too reliant on technology. Throughout the film, several scenes showcase Gemma's inability to become the parent that Cady needs and look towards the aid of a device for help—case in point, M3GAN. It's when Gemma realizes the addiction to technology and how that addiction affects Cady is when she understands the value of parenting and learns from this.
The direction is another topic to note with it comes the movie. Johnstone, who directed 2014's Housebound, does a decent job regarding M3GAN. The director comes through when the film needs to evolve the creep factor surrounding the killer doll. When M3GAN is first introduced, the doll gave off a level of Uncanny Valley. It's initially disturbing, but Johnstone's directing gives M3GAN a more welcoming feeling in the beginning.
I get the appeal of the doll and why something like this would make a killing in the market if it existed—no pun intended.
Johnstone continues with his directing to up the intensity of the killer doll bit by bit. The director competently and gradually evolves the kills and, in some cases, make them funny at times. I laughed at how M3GAN had dispensed particular annoyance in the movie. The kills weren't too ridiculous but creative enough and playfully teetering on the PG-13 and R-rated line. However, Johnstone has said there is an R-rated version of the movie, and I'm curious to see what that looks like.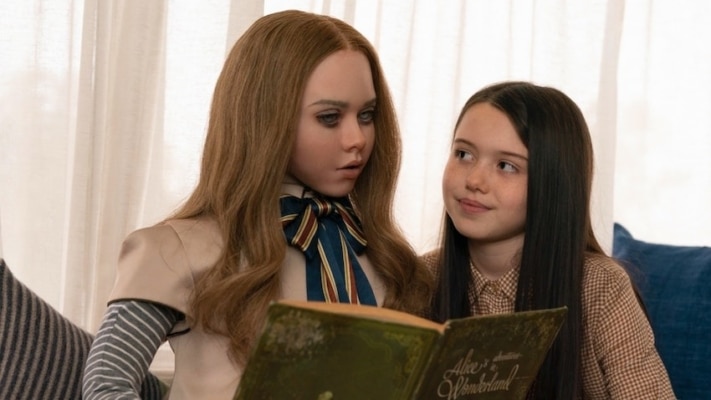 The acting of M3GAN was decent as well. The movie won't be winning any awards in the acting category, but the chemistry between Williams and McGraw worked well for what the film needed. The relationship between the two is strained due to their shared loss. However, their interaction elevates those notions to a satisfying level. I'll admit that I'm not a fan of child actors—they must be damn good to sell it for me.
However, McGraw's performance with M3GAN does show what the child actor is capable of and got the thumbs up from me.
Alright, so the part that you might be curious about…M3GAN. To be honest, I loved this creation. M3GAN is on a trajectory of being up there with great killer toys like Puppet Master, Demonic Dolls, and even Chucky. The creep factor that Johnstone employs for M3GAN evolves as the film progresses, and I couldn't get enough of it—seeing those soulless doll eyes was sometimes unsettling. It's like M3GAN  was most likely calculating a person's demise when she was in "off mode."
There have been reports that the movie's success has warranted a sequel, and I can't wait to see what happens next. The combination of Johnstone's directing and Cooper's writing made M3GAN an excellent horror film with franchise potential. The movie sets up an exciting direction to take the killer doll storywise and hopefully ups the ante in the horror department. So, if you have not seen it, go check out the movie and why many are talking about M3GAN.
Grade: B